About The Tapestry
PROJECT NAME:
Meaning of Tapestry: A thick and rich masterpiece, woven from exotic fabrics, treads and embroideries.
The Rationale of The Tapestry: The Tapestry is an exquisite masterpiece of luxury and quality, that's dedicated to creating beautiful living experiences.
The Tapestry. Inspired by life. Designed for luxury. Just for you.
INSPIRED BY LIFE. DESIGNED FOR LUXURY.
Like an intricate masterpiece of undeniable beauty, The Tapestry is an astounding world which draws inspiration from the richness of life.
Crafted to perfection, every inch of The Tapestry is a work of art, thoughtfully designed with you in mind, by giving you only the best that life has to offer. Its distinctive architecture uses a modern and unique curtain wall feature that is mostly seen in high-end luxury homes.
A CDL eco-friendly quality home. The Tapestry has been awarded the BCA Green Mark Platinum Award.
DESIGNED FOR YOU
EVERYTHING YOU NEED IS WITHIN REACH
Located along Tampines St. 86, The Tapestry is close to the established Tampines Regional Centre and Pasir Ris estate where many infinite possibilities await for the entire family. At The Tapestry, prepare to indulge like never before.
A PERFECT BALANCE OF INDULGENCE AND WELLNESS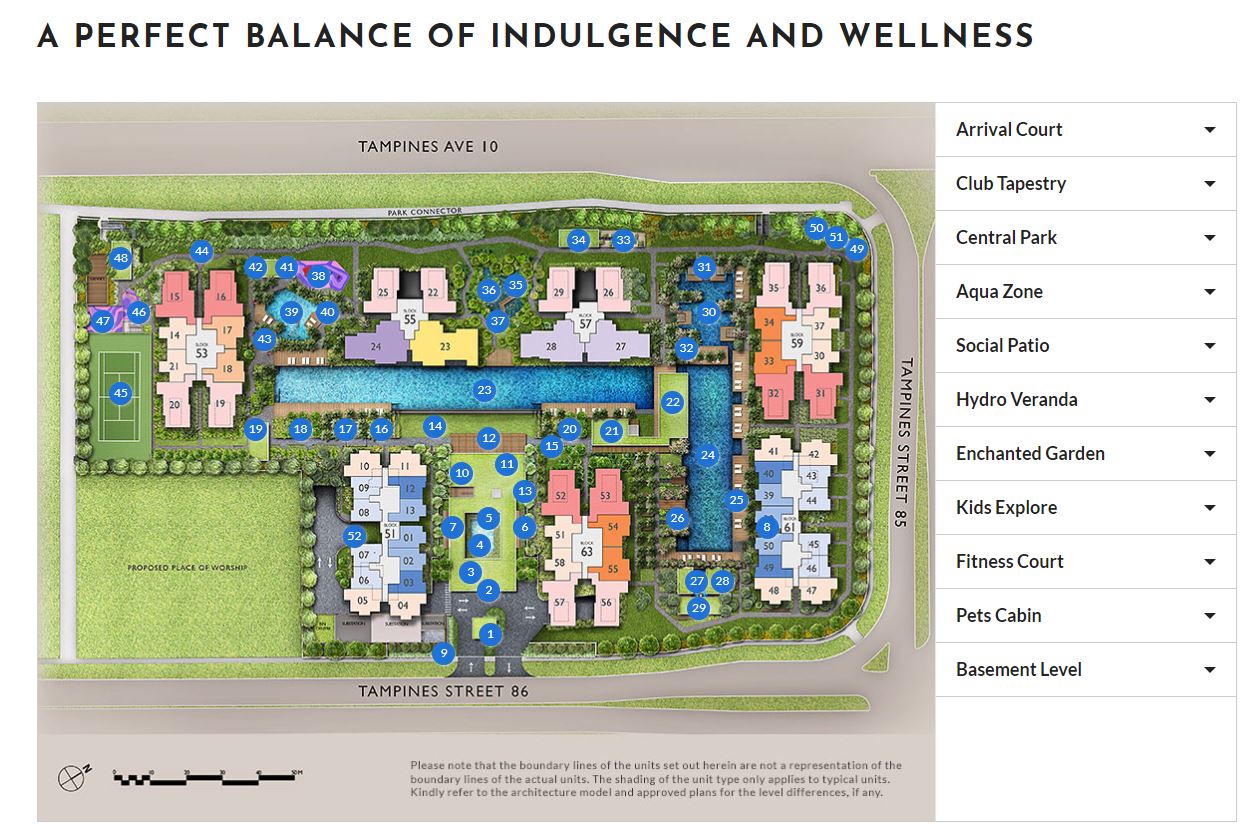 At The Tapestry, indulge in 10 exhilarating zones, which are designed with you in mind. Strategically spread out through the development, every zone was carefully laid out to enhance your pleasure to the fullest.
From facilities that help you relax, unwind and stay fit each day, to child-friendly facilities that let your kids have as much fun as possible, down to those that create the perfect setting for gatherings, The Tapestry has it all.
EVERYTHING YOU NEED IS WITHIN REACH
Located along Tampines St. 86, The Tapestry is close to the established Tampines Regional Centre and Pasir Ris estate where many infinite possibilities await for the entire family. At The Tapestry, prepare to indulge like never before.
The Tapestry is just minutes away from the things that matter to you. Enjoy a shuttle bus service* exclusively for residents. Get to any destination fast via the connectivity of both the Tampines MRT Station (East West Line) and the Tampines Downtown MRT, as well as the Tampines Bus Interchange. The Tapestry is within close proximity to major expressways and the Bartley viaduct. It's also minutes' drive to a wide array of exciting shopping and dining choices such as Tampines Mall, IKEA, Giant Hypermarket and Courts Megastore.
SETTING NEW STANDARDS OF LIVING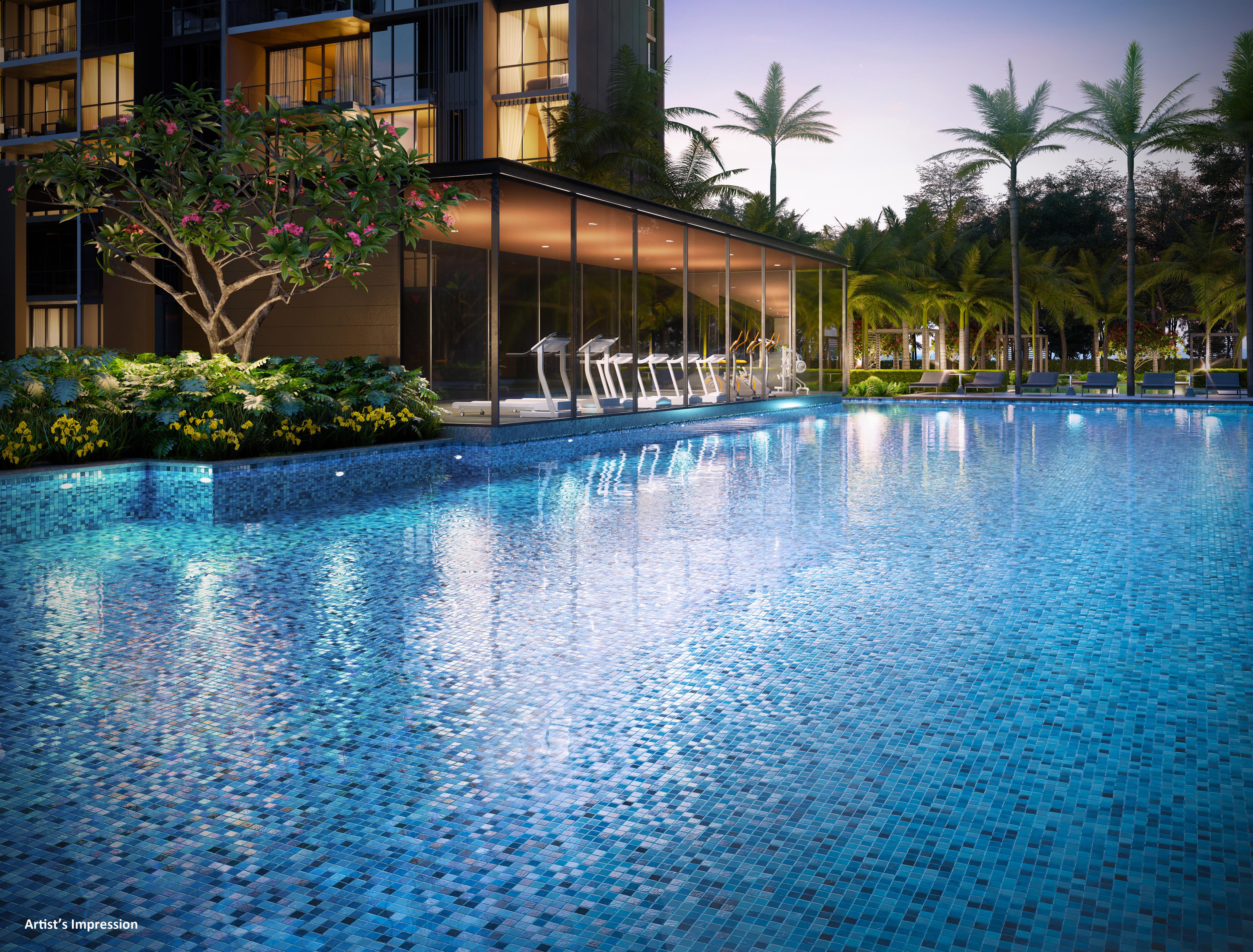 Arrive in style everyday. Be greeted by a welcoming Arrival Court that exudes a sense of luxury fronted by a signature sculpture.
Enjoy family gatherings and parties at Club Tapestry that comes with an extended alfresco area by the lawn and gourmet kitchen facilities. The Tapestry is designed for you and your family to enjoy.
At Central Park, take a leisurely stroll amidst the impressive Central Lawn. To stay fit, make use of the well-equipped floating gymnasium overlooking the scenic pool. This is a home where a sense of perfect bliss is yours to enjoy.
THOUGHTFUL SERVICES FOR YOUR PLEASURE
Enjoy thoughtful residential services, exclusively for all residents at The Tapestry. From private chef services, housekeeping services, down to transport arrangements and more, our Residential Services host will assist in fulfilling requests to cater to your lifestyle needs.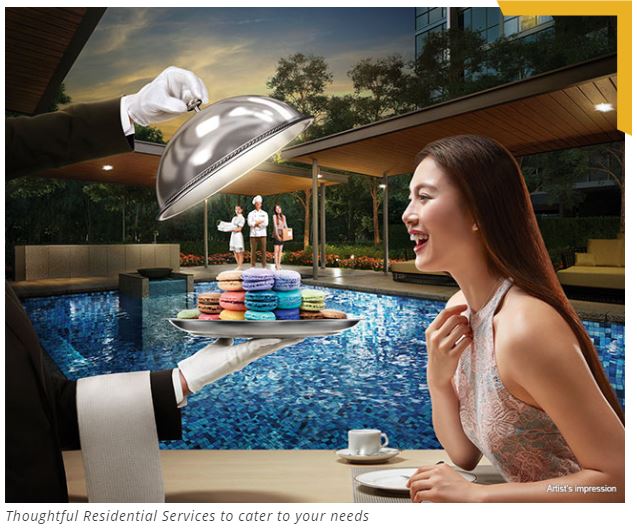 FEE-BASED SERVICES+
Dry Cleaning and Laundry Services
Housekeeping Services
Private Car and Driver Services
Party and Event Management
Private Chef Services
Pet Care Services
Auto Detailing Services
Personal Trainer
Handyman Services, Pest Control and IT Services
Transport Arrangements
Restaurant, Hotel and Attraction Arrangements
Mail and Courier Service Arrangements
WHERE THE LUXURY OF SPACE MEETS THE SPACE OF LUXURY.
THE NEW STANDARD OF LUXURIOUS LIVING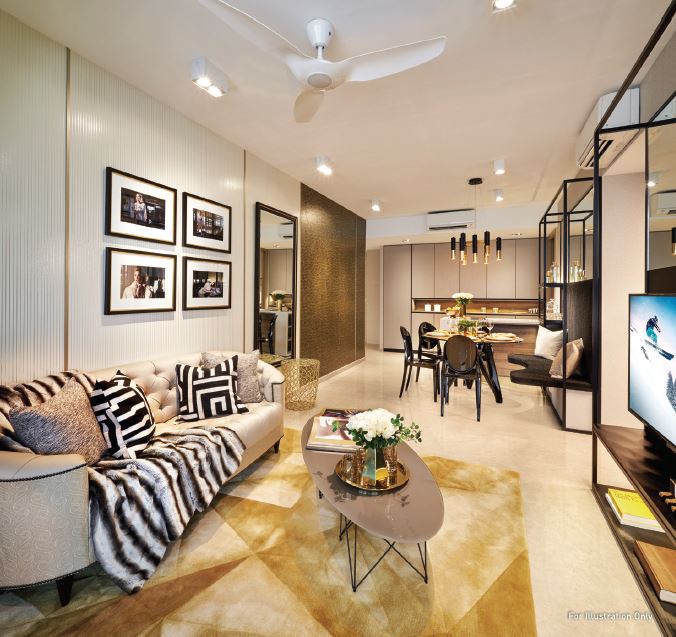 When it comes to space, The Tapestry is an impressive masterpiece worthy of your distinctive taste. Indulge in interiors with an efficient layout that offer unmatched luxury and modern comfort. Each apartment is adorned with sleek designer fittings including a Haiku ceiling fan and finishes known for their quality and style. Find an accessories cabinet fitted with mirror in the master bedroom and a pelmet to conceal blinds or curtain fixtures. Enjoy an exclusive private lift for 4-bedroom, 4-bedroom dual key and 5-bedroom dual key + study units.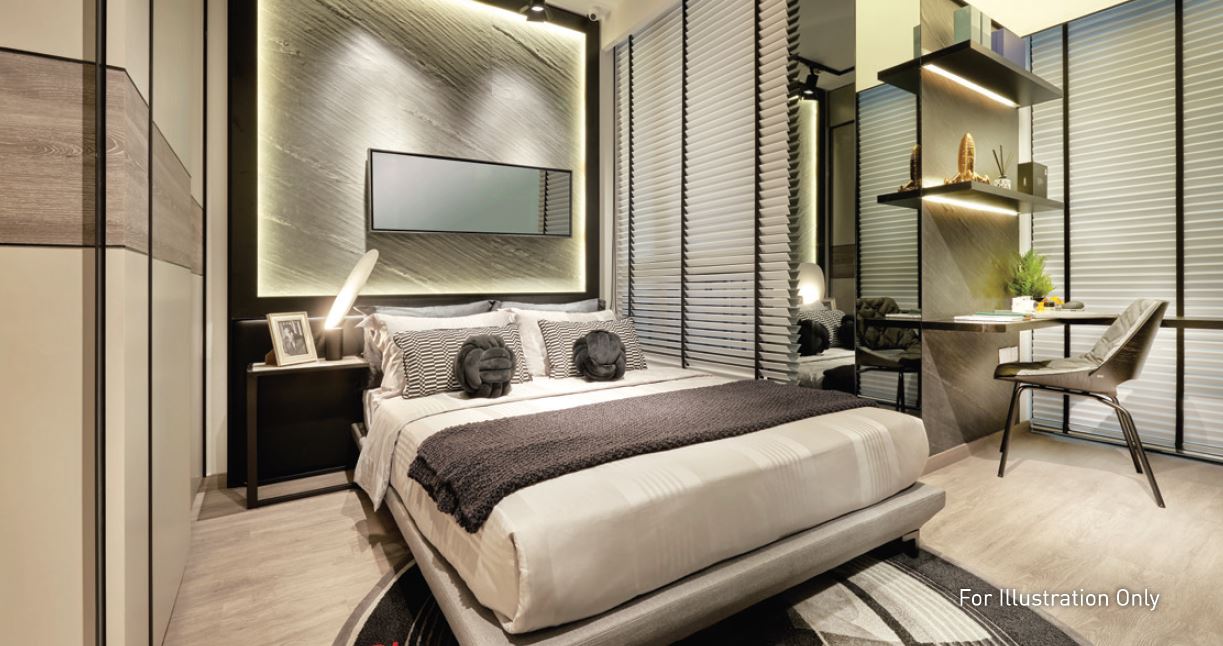 ONLY THE FINEST FOR YOU
Make use of a fully-equipped kitchen with Teka cooker hood, hob, oven, refrigerator and washer cum dryer. An additional Teka combi steam oven is also provided in 4-bedroom, 4-bedroom dual key and 5-bedroom dual key + study units. Kitchen and bathroom wares and fittings come from brands like Grohe and Duravit. This is the home you've always wanted and more.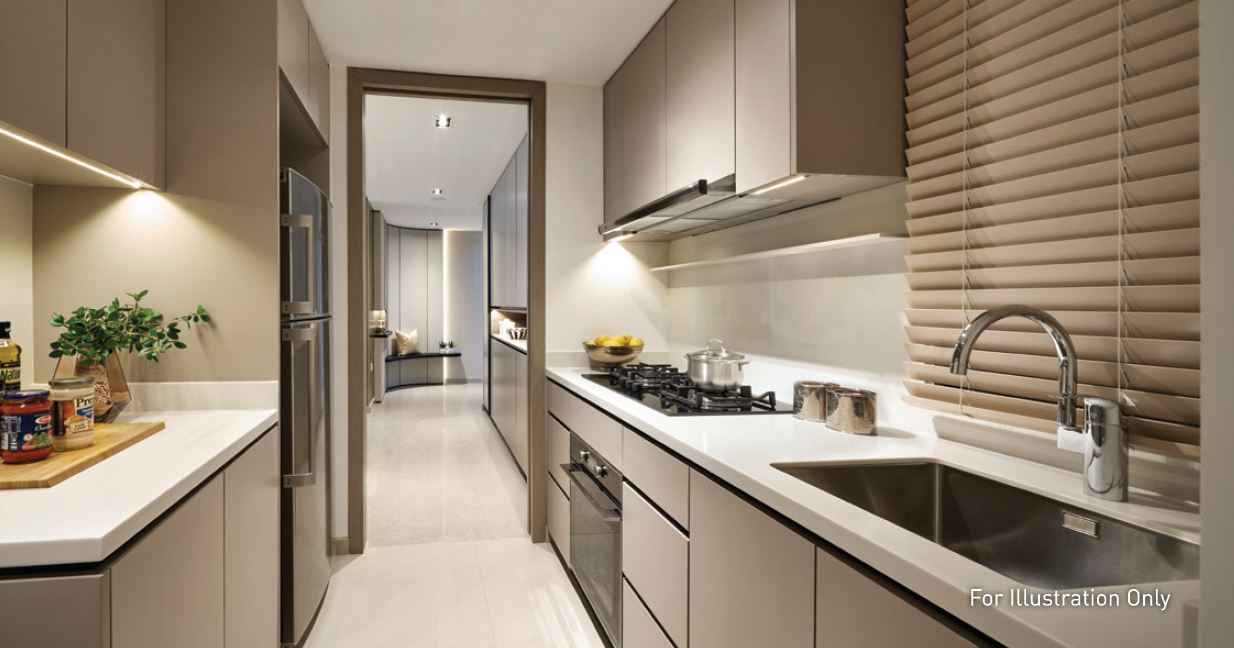 A SMART HOME THAT TAKES CARE OF YOU
More than just a home, but a smart home. With smart home technology, life is so much more enjoyable. Now you can monitor and control your home remotely, so you and your family can always enjoy peace of mind. The Tapestry is definitely the smarter choice when it comes to a home.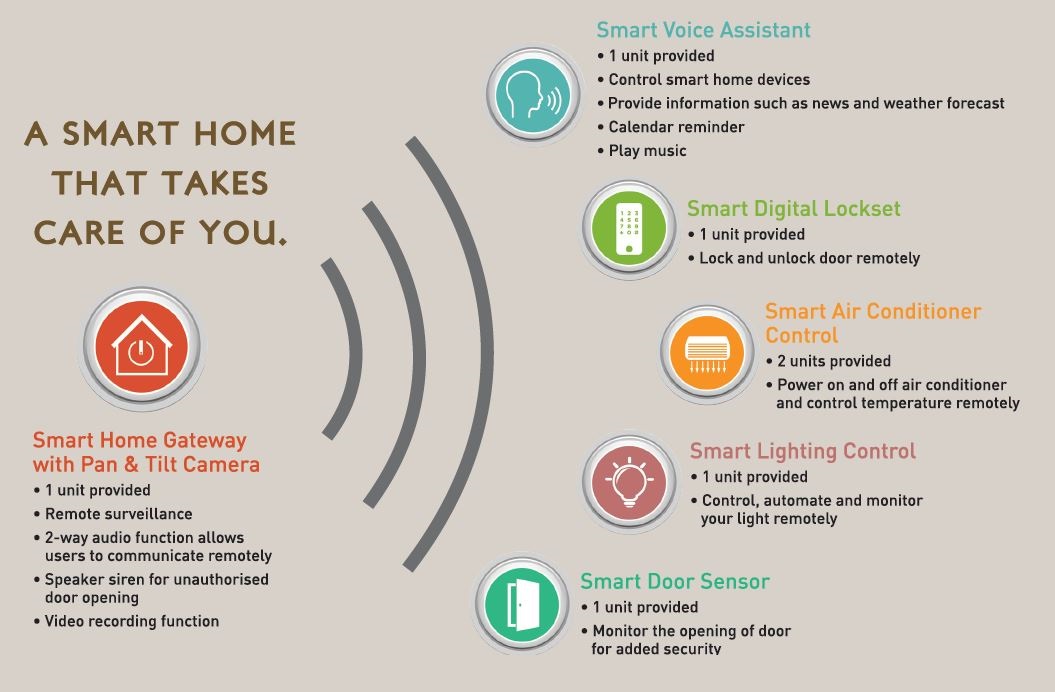 Project Details
Project Name

The Tapestry

Type
Apartment / Condo
Address
Tampines Street 86, Singapore 522875
Site Area
233,769 sqft
Unit Type




Quick Price Summary of Key Units:

(as at 25 July 2018)




Last unit below $600,000

1-Bedroom: #02-07: $599,000




Last three 2-Bedroom below $800,000:

#03-05: $788,800

#04-05: $792,800

#02-21: $799,000




3-Bedroom:

From: #02-57 (990sqft): $1,135,200

To : #15-57 (1173sqft): $1,302,400




Last Four 4-Bedroom (1432sqft):

#02-27: $1,671,030

#02-28: $1,705,050

#03-28: $1,711,530

#04-28: $1,718,010




Limited 4 Dual Keys:

From: #02-24 (1485sqft): $1,709,600

To: : #15-24 (1668sqft): $1,848,800




Rare 5 Dual Keys + Study:

From: #02-23 (1765sqft): $2,126,250

To : #15-23 (1991sqft): $2,340,900

Developer
Bellevue Properties Pte. Ltd. (subsidiary of City Developments Limited)
Development
Comprising 7 blocks of 861 residential units with landscape deck and 2 basement carparks. More than 50 facilities with 100m continuous lap pool & another 50m lap pool.
TOP
October 2021
Tenure
99 Years
No. Of Units
861
Location
The Tapestry is located within the mature Tampines estate, where future residents will enjoy the full benefits of a myriad of amenities such as shopping and dining destinations in established Tampines Regional Centre, parks, popular schools, business parks as well as the newly-completed
Our Tampines Hub in the neighbourhood. Residents enjoy a wide selection of retail options at Tampines Mall, Century Square, Tampines One, as well as IKEA, Courts Megastore and Giant Hypermarket. Educational institutions in the vicinity include United World College of South East Asia (East Campus), Temasek Polytechnic, Poi Ching School, Junyuan Secondary School, St. Hilda's Primary and Secondary School and Springfield Secondary School.
The Tapestry's close proximity to business parks including Changi Business Park, Loyang Industrial Park and Tampines Industrial Park makes it attractive for expatriates and therefore, investors could look forward to a competitive rental yield.
The Tapestry - New Pride of Tampines
Site Plans and Floor Plans
Register your interest for The Tapestry
Let us assist you with any Questions you may have: